I am back, and just the moment my feet literally touched the ground I have received a message from a good friend of mine, a musician DayFox, asking if I would have time for an urban photo shooting for a cover of his music project this evening. That was unexpected, but all good things happen unexpected, don't you think? I, personally,  love to cooperate with artists, it's like a fresh wind. I enjoy the company of people, who's energy flow never ends, people like a pulsing volcano. As an artist, the DayFox, is extremely talented and has a really good taste. He writes mainly Deep House and emotional House music, that leaves a refreshing and end energizing aftertaste after listening to it. Reminds me of eternal summer and pool-parties 🙂 This time DayFox produced 3 Future Bass tracks which is not his main genre and a bit different to his past releases but he wanted to breack boundaries in style and so he also thought of a different representation of his cover. So there is no chance I would miss such a chance to hang out and make new photos.
So the evening was already promising. I was already excited as we met, asking all types of questions – from "how should I look" to "what location are we searching". He was trying to answer all of them, but that another guy joined us, he turned out to be a creative director of this whole gathering, or just Mike for friends, and he already had a plan.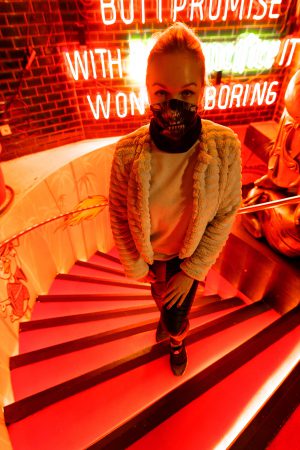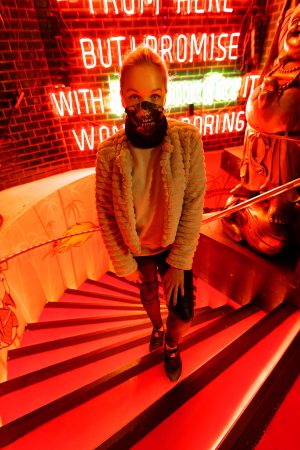 Mike planned one cool tunnel with neon lights on the sides, and when we discovered that it was temporally closed for reconstruction, he almost got desperate. But I am not the one who gives up too easy, no way. I just said – let us drive around the center, we can definitely find something better. One door closes – the other one opens, that's the rule.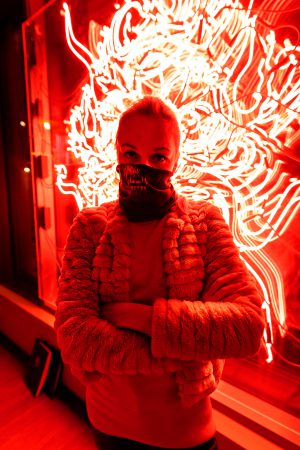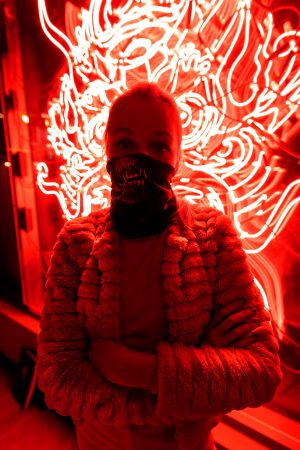 And no wonder, in five minutes we were parking near one really cool Chinese restaurant with enormous neon-lighted decoration. It was empty and impressive, from all wands with different lights, making our eyes basically explode from all the colors and brightness in the dark. Mike was instantly in love with the reflections and deepness of colours by that neon lights and YES it turned out very well. Instantly I was in that flow again and remembered my times when I was shooting more urban and street photos. It was a natural thing to put on my new face mask which I love as it shows a creepy skeleton char. 😉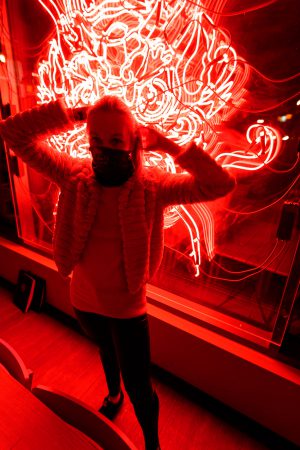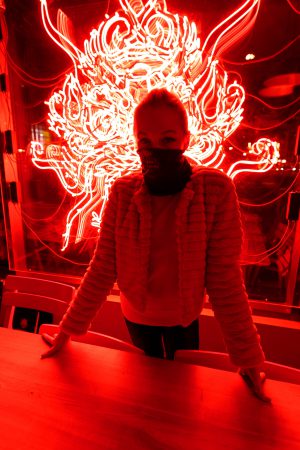 On the way to the parking lot, we were so in the mood, that we got even inspired by the gloomy light and the gray wall.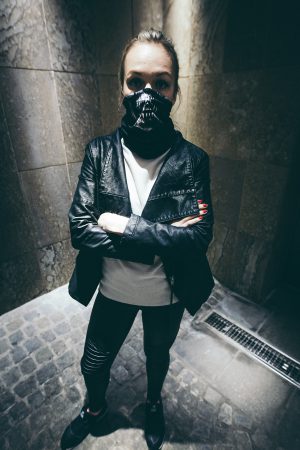 The evening was amazing, and we all happy and proud of the work we did, exchanged goodbyes and ideas for the next shooting we plan to do.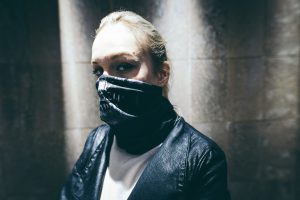 I am really glad to feel myself back in the city, where everything is possible just around the corner. So now it is only up to DayFox and his opinion. I will keep you updated on the final cover and which picture they choosed. Crossing fingers. XO