Hunting for satisfactory new photos can sometimes be a challenge. But it is definitely not a reason to stop trying. And sometimes the process brings more fun than a result, that is also not a secret for anyone. Especially when you share a company with your best friend, and it's not a shooting anymore, but just a walk through the city. And well, one can not say there is a little to see in Munich. Every day I literally melt from the amount of beauty around me – in broad green squares, in wide chick prospects, in old beautiful architecture on every corner. The whole city is one big eye-attraction, and getting lost in it is another benefit, which I really enjoy.
We were slowly walking and talking, and for a while, we forgot that actually, we wanted to take photos in the first place. The evening was really warm, and the streets were full of cars and people. City veins were pulsing with life, so we found a nice spot, on the hill, with a nice view. It felt the best place to be at that moment.
I had on a simple black cashmere turtleneck by Hallhuber, the one from my basic wardrobe. I love it the easy way, you can combine it with literally anything to achieve any look you want – from nerdy one to the first-rated one, that all depends on your mood. Wishing to get somewhere between fancy and simple, I wore a black skirt from Desigual.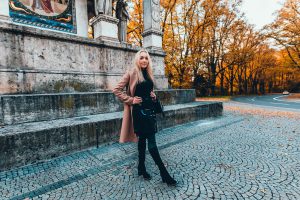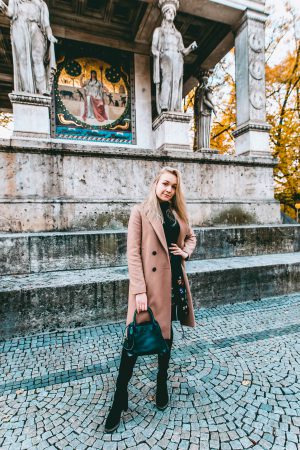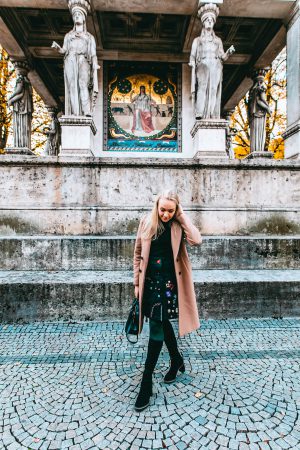 I find their clothes really crazy sometimes, the way they put everything in one big pale sometimes reminds me of my first handmade greeting cards in elementary school.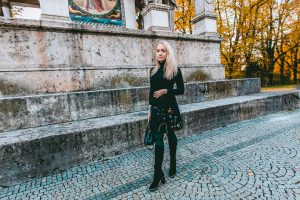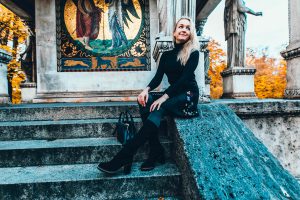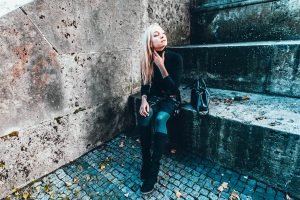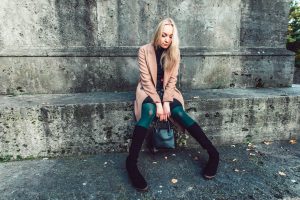 I am in no case making any fun about their style, while personally I really liked my cards (so did my mom and grandma).  So as I love my warm skirt, with that one, I get all the attention possible, wherever I go. My beige coloured coat by Hallhuber was a bit neutralising the chaotical effect of my skirt, though emerald tights by Calzedonia were exactly perfect for the whole look to make it not only casual but also catchy. Shoes I chose for this look are super soft knee-boots by Peter Kaiser with a chunky heel. For accessory I had my little black leather back by Jennyfer.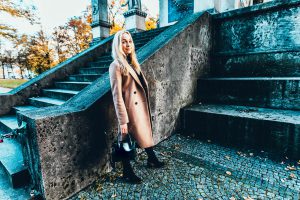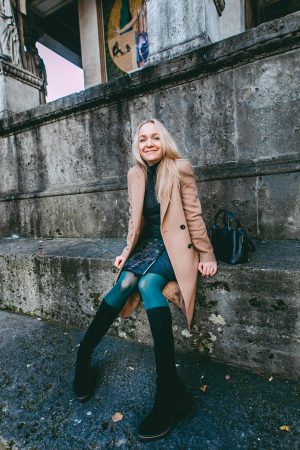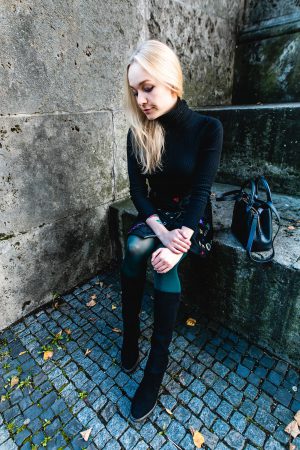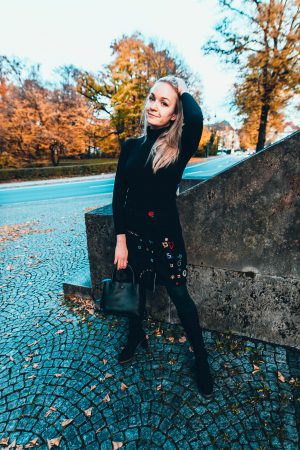 *Werbung da Markenverlinkung (keine Cooperation / kein Product Placement)