Only exceptions are creamy desserts and maybe yellow outfits. Kidding, there cant be too much outfits, right? Whatever I buy always looks different in the shop mirror, I think it quite common. So, first of all, I like to try out new things by getting out and taking photos. That's not a big trick but it works pretty well with me. After looking through new pics (well that's always fun anyway) I can always see how the things sit on me from different angles and with a different light and perspective. After that my "new virgin looks" become officially my "second skin looks". So I can basically use them anytime, without a second thought, feeling free and fantastic.
Today I took two of my latest purchases with me for a small walk, and it was in any case not too much. Now I wish I took more.
The first one I tried was classic black leggings with a violet satin blouse by H&M. It's funny though, when I first saw it I found it a bit extravagant, due to such a juicy deep color, but the moment I touched it there were no more second thoughts left. The silky touch of textile, running through my fingers like water charmed me. I wanted it, I needed it, I got it.  Shoes I found also pretty cool, and what really matters they are really comfortable. These are sock-boots by Hallhuber, so matching them together with leggings (also by Hallhuber) I gained a look of endless legs. No zips and hills of a perfect size, these babes were made to bring you joy while simply crossing the street. I wanted to try out my bags too, while they are so radically different, and the only thing they have in common is me. The black one is one of those bags every girl has, classy big capacious bad, perfect to carry with you the whole day, and still be capable to do everything you have planned. I chose this type of bags when I have a really busy schedule, and it can take all the pressure from me. The other one I would call more a show-off babe. She will perfectly play her role of a chicky accessory, but she is also capable of taking care of all the small things a lady cares with her. I like this bag because it makes the whole accent game much easier, and she is really something you will never forget on the backseat in a taxi.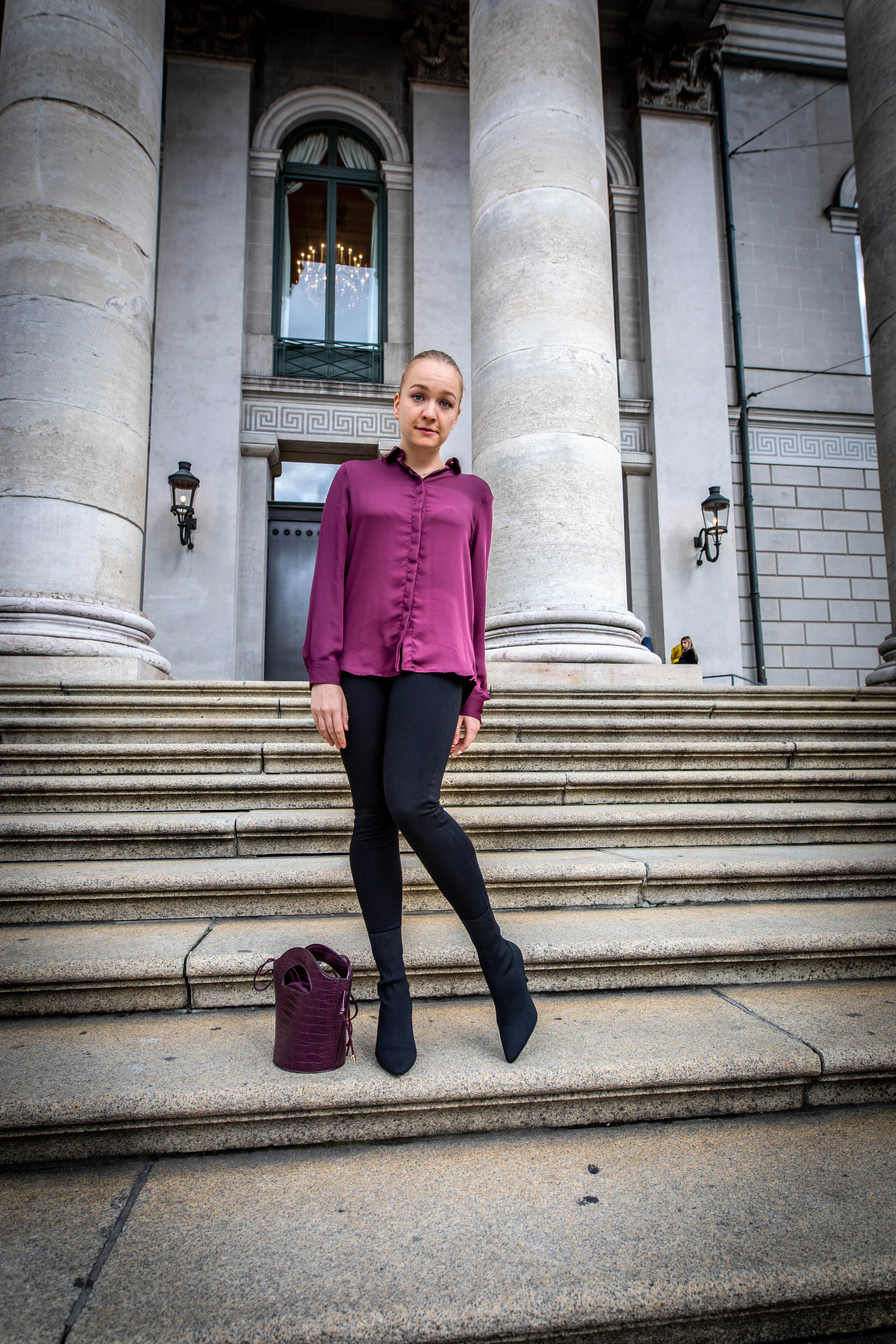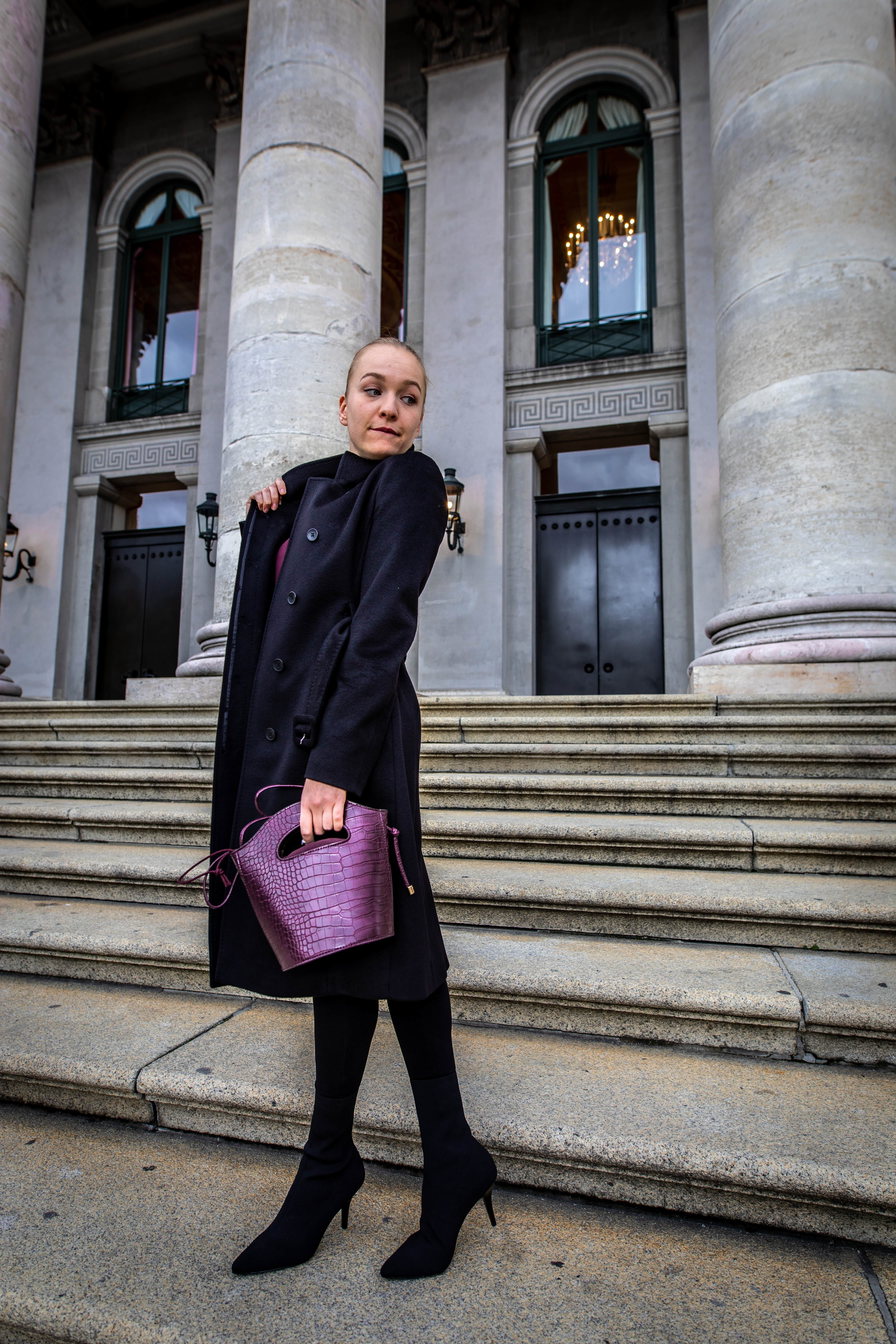 The second one is all about beige. The pants by Hallhuber looked at first so classy, that at first I even questioned myself – where should I wear them. But now I can proudly say – wherever I go. It does not matter, because wearing them alone makes you feel on top of the world. They are free and floating, but so gentle and astonishing feminine.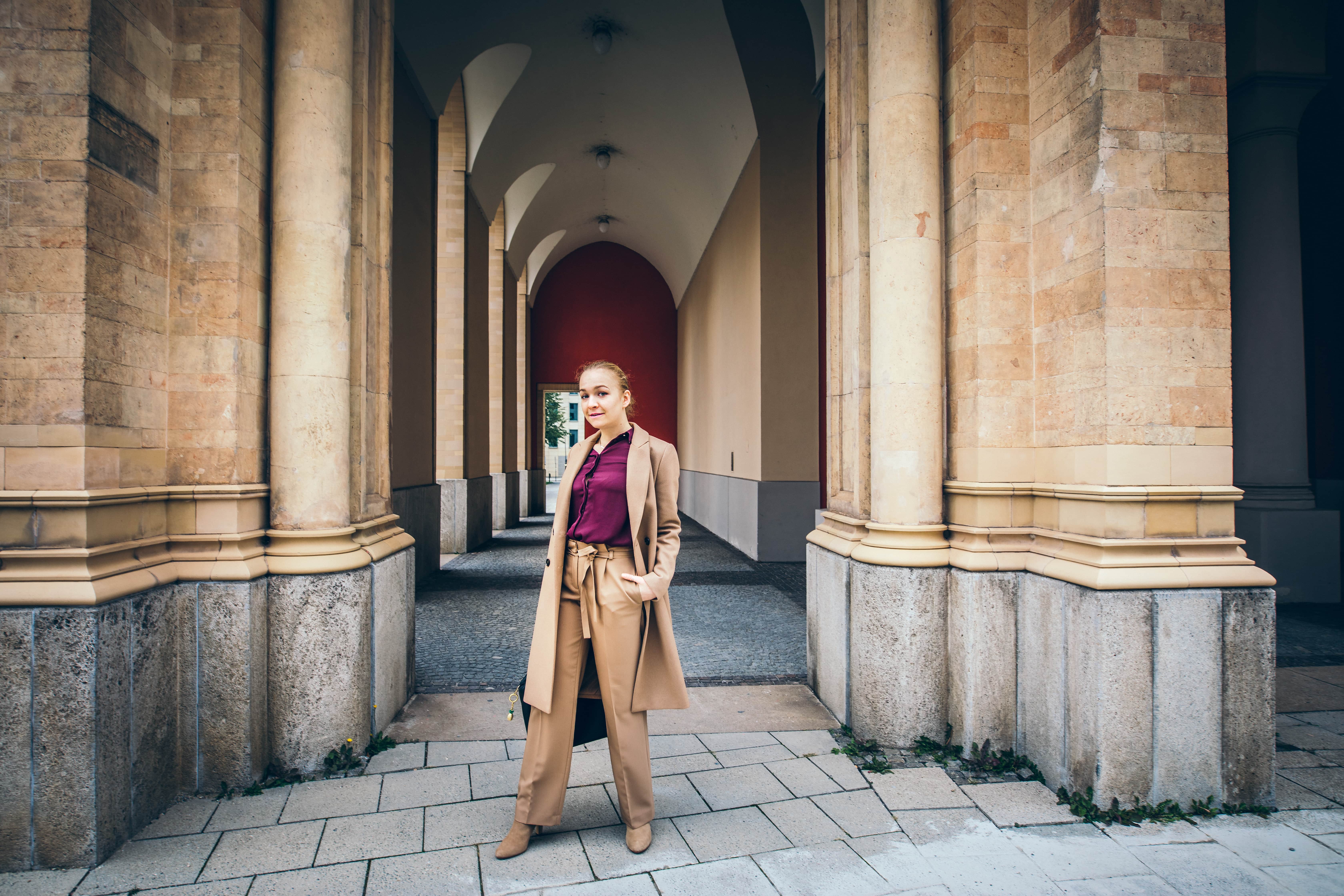 And in a duo with the same colored coat, they are playing so harmonically. To make my look even more beige I got myself a pair of ankle boots by Hallhuber, so soft, that stepping on the ground feels almost like a sin.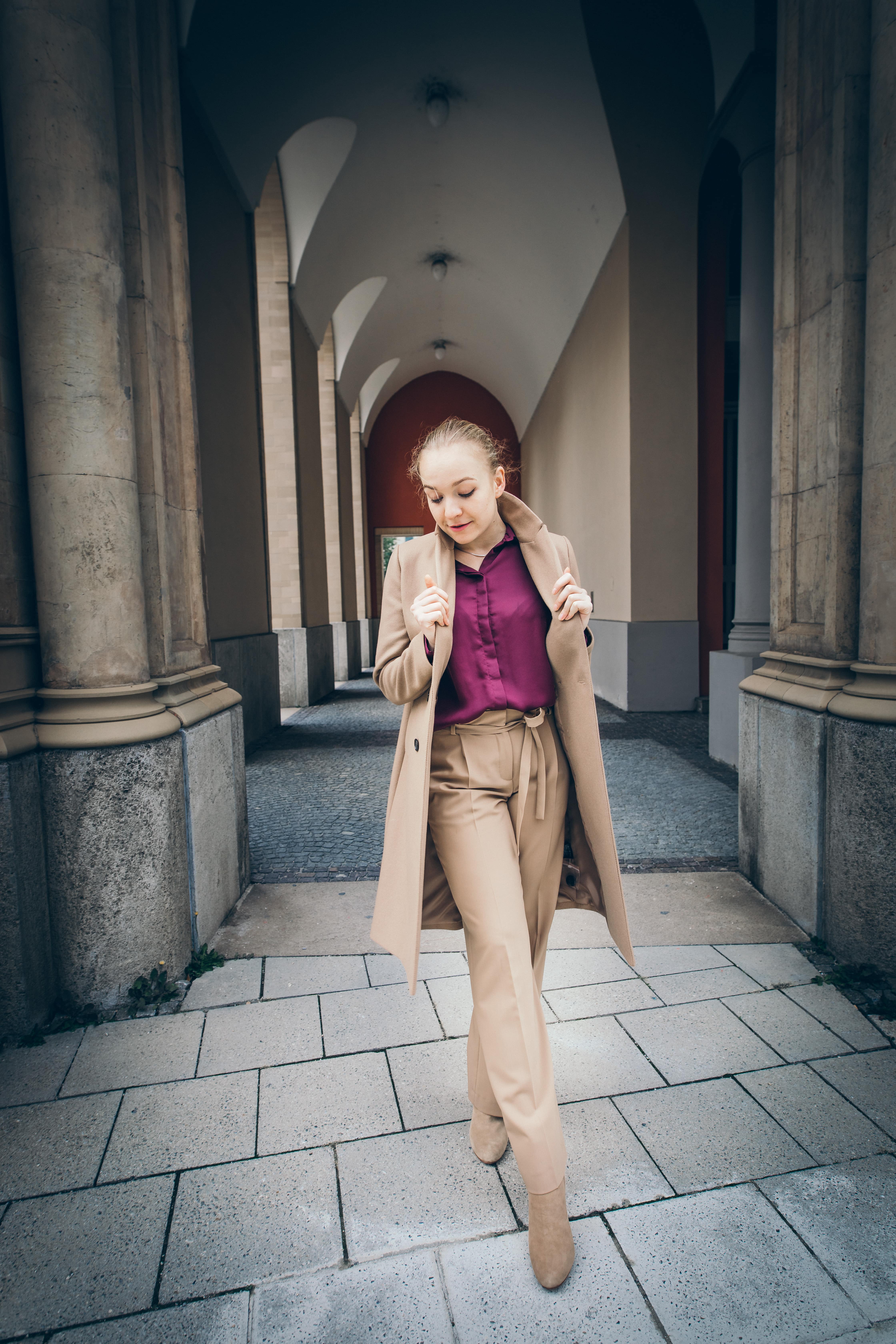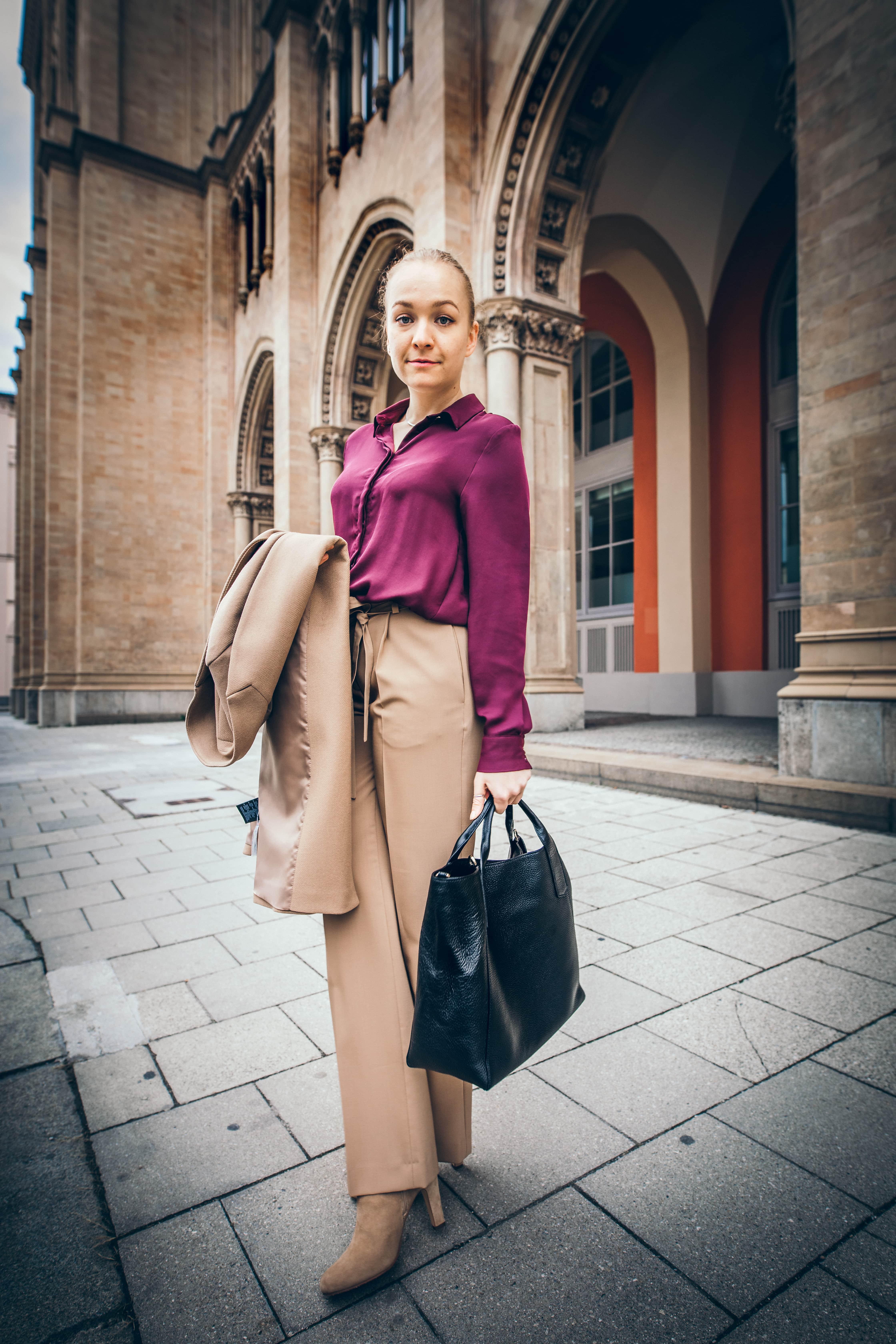 But well, I will definitely continue sinning this pleasant way, and I would love to share it with you.
Looking through photos right now I must say they are really something if you want to achieve a gentle look, but with a strong character.
Black Coat: Hugo Boss
Beige Coat: Hallhuber
Violet Blouse: H&M
Black Leggings: Hallhuber
Beige Pants: Hallhuber
Black Sock-Boots: Hallhuber
Beige Ankle Boots: Hallhuber
*Werbung da Markenverlinkung (keine Cooperation / kein Product Placement)