All of my friends will definitely describe me as an adventurous person. Almost crazy, but in a good way. It is no way I can miss any kind of adrenaline party. I mean I still have all of my senses, and one of the sharpest is the feeling of how far I will not go. Clear thinking – the only key to survive with my temper. And I try it really hard, I mean – thinking clear.
And as we all know, in a journey (as in everyday life) everything starts with what do you have on. After that comes – what do you have with you. So after drinking a second coffee and finally waking up I checked my hand baggage and put on the light short skirt and white top. It is the last goodbye to this tropical climate, and I wanted to do it orderly. This was my first flight with a helicopter and my head was already full of thoughts and expectations. Sometimes it's unbearable to be me, trust me. We were picked from our last villa, Casas de Agua, with a taxi, and all the bumpy road up on the mountain I could not sit on one place – partly because the road was really bumpy, and partly because I was like a running spring. When we arrived at the mountain's top all I saw through the window was an abandoned heliport marked with this big H – letter surrounded by grass and cut by a cliff towards the seaside. On one hand I thought it is very narrow and small to have that iron dragonfly landing here but on the other hand, I had no real idea about the measurements and sizes.  I jumped out of the car, leaving my friend alone with the bags, I was afraid that I missed the arrival. After checking the area I was looking for the heli which did not show up. Waiting took an eternity, that's one of the reasons I hate waiting. But then I saw it. First a small spot in the sky – is it a bird – is it Superman? Nope, that was our small private helicopter. And oh my goodness, everything happened so quickly: the strong powerful wave of sound and air hit me, that reminded so much of surfing, only difference – this time I had ground under my feet and there was no salty water in my face.  At once he just stood there – big, making a lot of noise and wind. My hair was at once in my mouth and my hands were trying to hold the skirt, migrating freely around my body. The pilot was waving cheerily, inviting on board.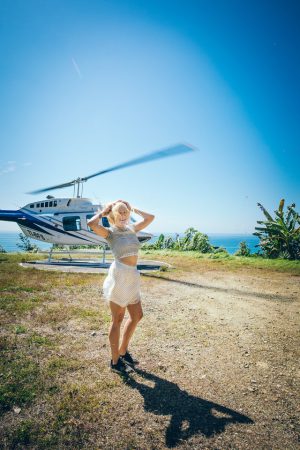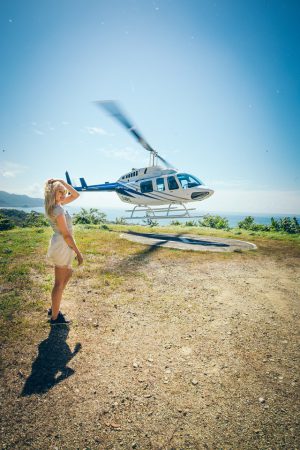 The plan was to get from Santa Teresa to San Jose, and after a night in a hotel to get early and chilled to the airport. And this plan was amazing! I mean, on my last journey from San Jose to Santa Teresa I spent in auto 5 hours, if not more. I can't even remember it clearly because I was most of the time in a sleeping mode. This time, with a helicopter it took half an hour, or so. I just started to enjoy the flight and pissing off the pilot with my never-ending jokes like "can I drive" or "well, that is such a bright button, can I press it?", and it was already over. So there was no problem with getting me in a helicopter. Problem was in getting me out.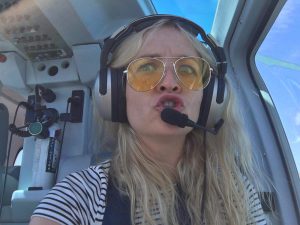 Flying is an amazing thing. Definitely un-human, but kind of an experience one must try in a lifetime. A small cabin, with air conditioning, glass floor and wands gives such a view, that you will bite your tongue, being envious towards the birds and their freedom. And this feeling of easiness and safety, that is definitely something you just can't experience in a plain. All flight long I was so overexcited with this amazing view of small, ant-like trees and valleys, rivers knotting with each other, small (or at least they looked so) waterfalls, houses and villages, jungle and ocean. Everything looked like a miniature park.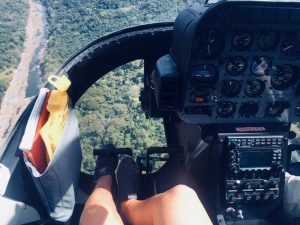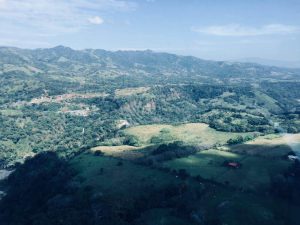 I am still feeling dizzy and definitely overwhelmed. I will get my sleep tonight at the Sheraton Hotel. People here were really cooperative, they were already waiting for us, and carried everything inside. Soon I will post a landing video:) Now I plan to check out the pool here and then order something to eat in my room. Chilling and reading, there is nothing better than to let my body relax after so much excitement.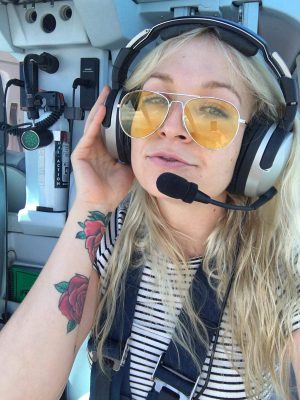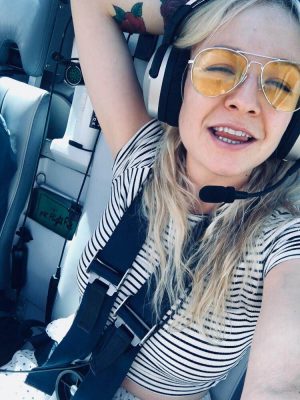 But tomorrow adventures are waiting! See you on the other side!