First of all: I did it !!! I arrived in Santa Teresa, Costa Rica !
But it was not as fast as I write it here euphoric – behind me is a 23 hour trip with stopover in Frankfurt, an 11 hour flight to San Jose, the capital of Costa Rica. There I was able to close my little eyes for the first time and spend the night in a hotel at the airport to sleep off to Santa Teresa by jeep. After a very strong black coffee and a few delicious fruits consisting of mangos, papaya and litchies, I started well into the last stage before I arrived in my long-awaited Santa Teresa. I drove south with my guide Miguel and his stylish red pickup to catch the car ferry at 11am. Arriving on the ferry, I was able to enjoy the view for 1 hour and listen to the latest Spanish Spotify hits via an oversized loudspeaker. Slowly came Caribbean mood although I sweat at barely 30 degrees in the shade and had to fight with the humidity. But hey – I'm in Costa Rica, that does not shock me. Arrived in the port of Paquera we had another 1.5 hour drive ahead of us, which flew by. And then we arrived in Santa Teresa – now I knew why one speaks of the "most dusty road in the world" because the quads and jeeps whirl up a lot of sand. A bright little town presented itself to my eyes, surfers strolling barefoot with their boards across the rocky road and tourists in shorts and bikinis covering faces with their homemade accessors. You have to imagine Santa Teresa on a main street, one surfer hostel after another, and in between surfers shops, restaurants, charming bakeries, fruit shops and tour guide providers. The road is separated from the beach and the sea by a forest strip about 100 meters wide. This can be crossed in several places on foot or by quad and within 2 minutes you are on the beach of Santa Teresa – and here I am – I freely walk on the warm sand beach, with my shoes in my hand, and playing with the waves of the ocean. This magical powerful sound greets me here, and I am fully under the curse of the beautiful sunset, that paints the clouds in red and purple. Wind from the ocean is not cold and definitely not strong, rather warm and friendly. One thing I know for sure – that's the best place to be right now.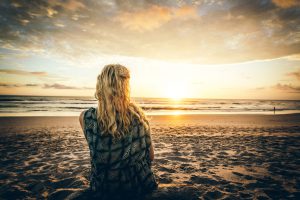 One of the reasons I chose Costa Rica as a place to visit, is the temperature in winter. Well, that's too, but honestly talking, I always dreamed of learning how to surf. After a small research-work, I made a plan for my journey. I was searching for the remote places, the lost paradises, and Santa Teresa is definitely one of them. I also had a goal – to conquer the wave, and where else when not here. This town has become one of the top destination surf spots for surfers in search of the best waves in Costa Rica and it is said that every surfer should visit it once a lifetime. Because of its rolling coastline, white sand beaches, and notoriously 'hollow' low tide waves, Santa Teresa is a real surfer-attraction.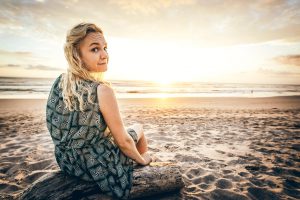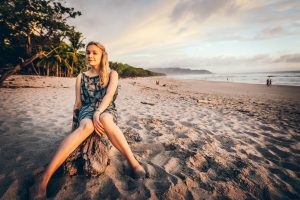 Now I am here, enjoying the sunset. It is so beautiful here, a few minutes before the sun hides from horizon I can already feel the darkness, creeping out of jungles behind my back.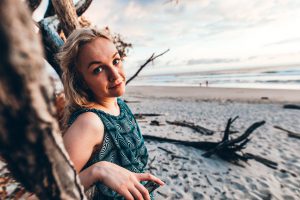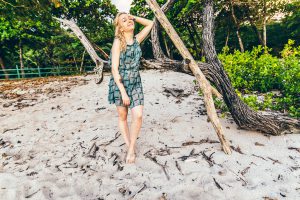 I am glad to share this long trip with my friend, this makes my trip so much more fun! We continue doing the photos together, and spending together this fantastic time!
For the next few days, I plan to get tanned, get out to dance, go out to search for a beautiful place, find a surf-teacher, and a fish-market – I would love to start my own culinary experiments. I think I will stay here till X-Mass. Promise to tell you about every my adventure here!
Adios!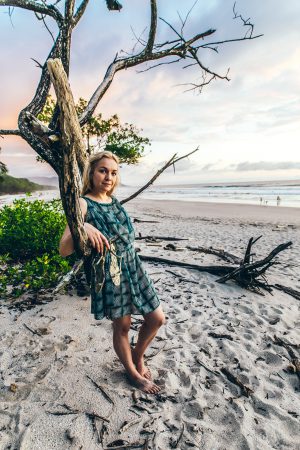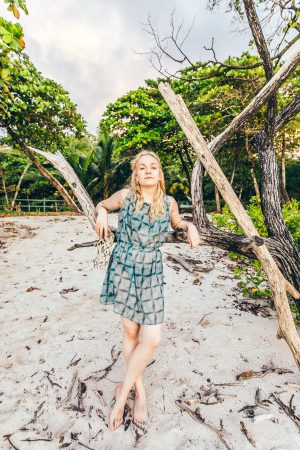 P.S. – this little friend (I love dogs by the way !!!) sat directly in front of me. 😉