Oh what a day! The new treasures I put all my forces to discover are locations. As I already mentioned before – location makes all the background scene, and we all know how the background influences the whole play. I am happy to admit I found something really worth the whole trip and flight here, my new pearl – hotel "Mint".
Well to find this one by foot was easier than with auto, though it's located on the top of the huge hill, more mountain like. The road up the hill is not that long, but pretty much doesn't exist. So every time we were driving up the hill with the jeep my heart was jumping out of my ribs, so as my brain out of my head. But well, after I saw the view from the top and the insides of "Mint" I understood it was so much worth it.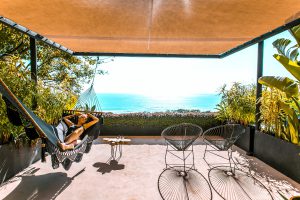 It is a very untypical hotel, the exclusive one. They have only four, so to say, "rooms". Each one is like a small, isolated, two-floor house. the second floor is an open-space lounge, basically without wands and in the middle of the jungle. trees, animals, ocean, wind, and stars are the best attractions this hotel could offer me, but definitely not the least. The room itself is perfectly made in minimalistic boho style, loads of space, and basically only two wands, other two are windows. One is with the ocean view and the other one – with a jungle view. So much air and space! For now, I will enjoy the second floor of our bungalow 🙂 It is so perfect here just to hear the singing of the birds or the noises of animals nearby, I am quite sure I even saw a few monkeys here!
So for today no surfing classes, no exploring beaches, just chilling by the pool. By the way, they have an infinity pool, so I might even catch the sunset tonight in my arms:)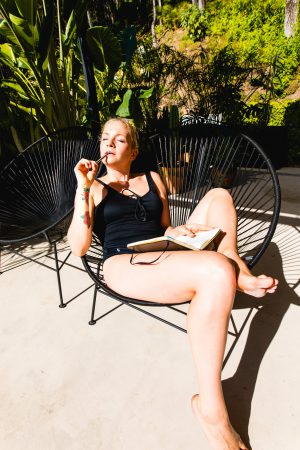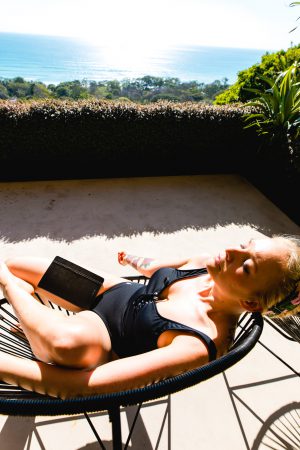 Right now I am relaxing on my very own roof-top that each room has and enjoy reading, relaxing and writing my diary and blog post. It is amazing here, the view down to the beach is stunning and breath taking.