I don't believe in pictures on booking.com. Honestly, it reminds me a bit of tinder but with flats and hotels. So the moment we arrived at Santa Theresa, we stopped in the hostel, where we booked a room with two beds. The hostel is pretty nice, 4 minutes from the beach, with a supermarket nearby, with the pool and big kitchen, where theoretically you can cook and meet other people, who turned out to be at the same time in the same place (kitchen). The owners of the hostel are two guys, the one who met us near the entrance was kind enough to help me with the luggage and by the way in a very friendly way told me about the division inside the hostel, like it was mostly a surfer and yoga camp. Basically, I came here to learn how to surf, but first, to chill a bit, that was the plan. I mean, I find it pretty rude, to say something like "we have here something like a division" to someone who survived the whole trip from one side of the earth to the other. Same day later I met the other owner of the place, he was all the time building things around the place with his hands, I saw that he really likes what he does, and I find it always inspiring and purely refreshing. Me and my friend we came along with the people who were already living there, everyone was really nice, positive and ready to share their last bite. The atmosphere inside the place was really cool, I was enjoying every conversation I was lucky enough to have. But one thing I was sure about, is that I will find a teacher myself, I don't like being divided into castas by someone. And well, I really tried to cook something in the kitchen, but I could not go further than doing breakfast for us. It was always extra crowded and well, to some people mama never showed how to clean up the mess they create, so that was a bit too disturbing for me to even start. So we started to look for a new location somewhere on the main street, for a pair of days or so, to get a bit more of privacy and so that I could have a bit of my fun-time while cooking. The hostel we decided to leave as our "safe base".
The one who searches – will find, so a few hours later we were already in the car with a driver, who already became our friend, Miguel. Our new location is a small hotel named "Villa Cacao", and of course the first thing I checked out was the swimming pool!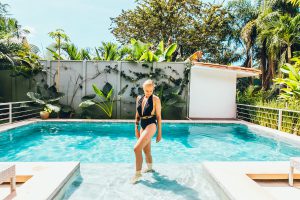 This one is really something, water is clean and so warm. The owner told us, that it is a salt-water pool, and it was a nice surprise and a good explanation of why it looks so good. I really enjoying my time here and now, and all thanks to this private atmosphere. Though the hotel is on the main street, you still can feel yourself secure here. And the ocean is just in 5 minutes by foot. So as a small local fruit-shop with all the small goods you might need.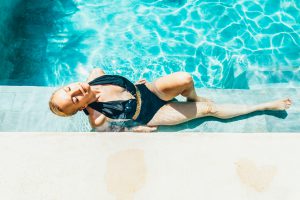 I loved the garden, you can see that every detail was made with love and care. In our room is also a private small kitchen, which I found good equipped and smartly placed. I already ordered a fresh catch of the day from the owner, so tonight I will try not to poison me and my friend with my extravagant cooking.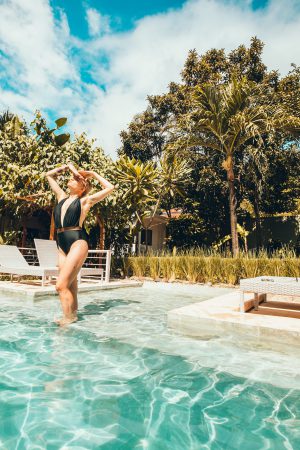 The whole atmosphere is totally different, I mean, it's not the one letter that differs one thing from the other. But I already miss that noisy crowd and small talks with strangers, that has definitely its charm.
Anyways I will continue exploring Santa Theresa, and I will be happy to tell you more about new pearls I hope to find here 🙂