I am a big fan of home made grandma recipes. And not only for cooking, but also as old school beauty secrets.
Weather outside is cold and unfriendly, so I wanted to spoil my skin with something extra sweet. Hm.. Honey? Why honey? Oh well, it is suitable for any type of skin. Greasy and problematic skin it will help clean and mat. Combined skin – softens, moisturizes dry areas and "works out" the problem T-zone due to its bactericidal and anti-inflammatory properties. It nourishes normal skin with beneficial substances and maintains the level of hydration. Dry and very dry skin it will soften, strengthen, moisturize and prevent moisture loss.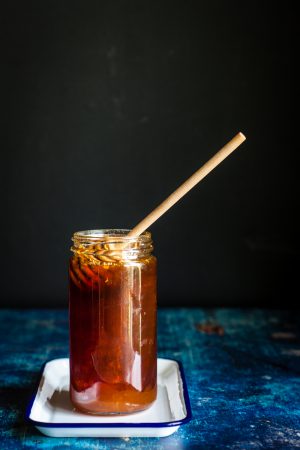 Honey mask for dry skin
A mask of honey, avocado and coconut oil is suitable for owners of dehydrated, flaky skin. The nutritional ingredients in this mixture can provide the skin with additional moisture and block it in the cells. Take:
1 teaspoon of honey;
1 teaspoon of coconut oil;
1/2 ripe avocado.
Mash the avocado quarter with a fork in a smoothie, add the rest of the ingredients and mix. If coke oil is too hard, melt it in a water bath. Wash your face with warm water to cleanse and open your pores, remove excess moisture with a bath towel. Apply the resulting mass with light patting movements, avoiding the area around the eyes. Hold the mask for about 15 minutes and then rinse with warm water. Pat your skin with a bath towel and apply a moisturizer.
Intense Acne Honey Mask
Intensive anti-acne honey mask contains honey, oatmeal and ground orange peel. Oat gently exfoliates dead cells, nourishes the skin, promotes its elasticity. The orange peel contains vitamin C, its small particles serve as a soft scrub, and ground citrus peels give the mask a pleasant aroma. You will need:
1 teaspoon of honey;
1 teaspoon ground oatmeal;
1 teaspoon chopped orange zest.
Combine all the ingredients in a small bowl and apply to cleansed skin. Leave the mask for 15 minutes. When time runs out, rinse with warm water and rinse your face with cool.
Refreshing face mask with protein and honey
A mask of honey, protein and herbs is suitable for all skin types. As a result of its influence, the skin will be cleaned, small inflammations and redness will disappear, small wrinkles will be smoothed out, turgor will improve. The mask consists of:
1 egg white;
1 teaspoon of natural honey;
1 teaspoon of fresh mint leaves;
1 teaspoon of crushed dried chamomile flowers;
3 drops of lavender essential oil.
Warm the honey in a water bath to body temperature. Beat egg whites until thick foam forms. Finely chop the mint leaves. Combine honey, peppermint, chopped chamomile and lavender essential oil in a homogeneous mass. In a thick layer, apply the mask to the cleansed face with a wide brush or cosmetic spatula. Take a horizontal position and leave the mask for 15-20 minutes. Rinse off with warm water and then wipe the skin with an ice cube. Ideally, if the ice is made from a frozen broth of chamomile.
Nourishing face mask with honey, yogurt and egg yolk. While egg white is used as a drying, tightening, and cleansing agent in cosmetology, egg yolk is valued as a source of nutrients. The composition of egg yolks contains fifteen minerals and eleven vitamins. Among them are rare and so needed skin melatonin and lecithin. Melatonin helps cell renewal, while lecithin ensures the penetration of nutrients into the deeper layers of the epidermis. The mask with honey and egg yolk is a real "humanitarian aid" to exhausted skin. Yogurt, also included in this mask, is rich in lactic acids, which have a mild exfoliating effect, and probiotics. Take:
2 tablespoons of natural honey;
1 egg yolk;
1 tablespoon of thick yogurt without additives.
Gently rub the honey with the yolk, add the yogurt and mix until a smooth, uniform paste is formed. Generously apply the mask on the skin of the face and neck with a cosmetic spatula, avoiding the area around the eyes. Lie down and hold a face mask with honey and an egg for at least 10 minutes, and then rinse with warm water. Complete the procedure by wiping your face with an ice cube.